* All * Android Terminology
Introducing the Latest Dumpster Upgrade
Dumpster as a lifesaver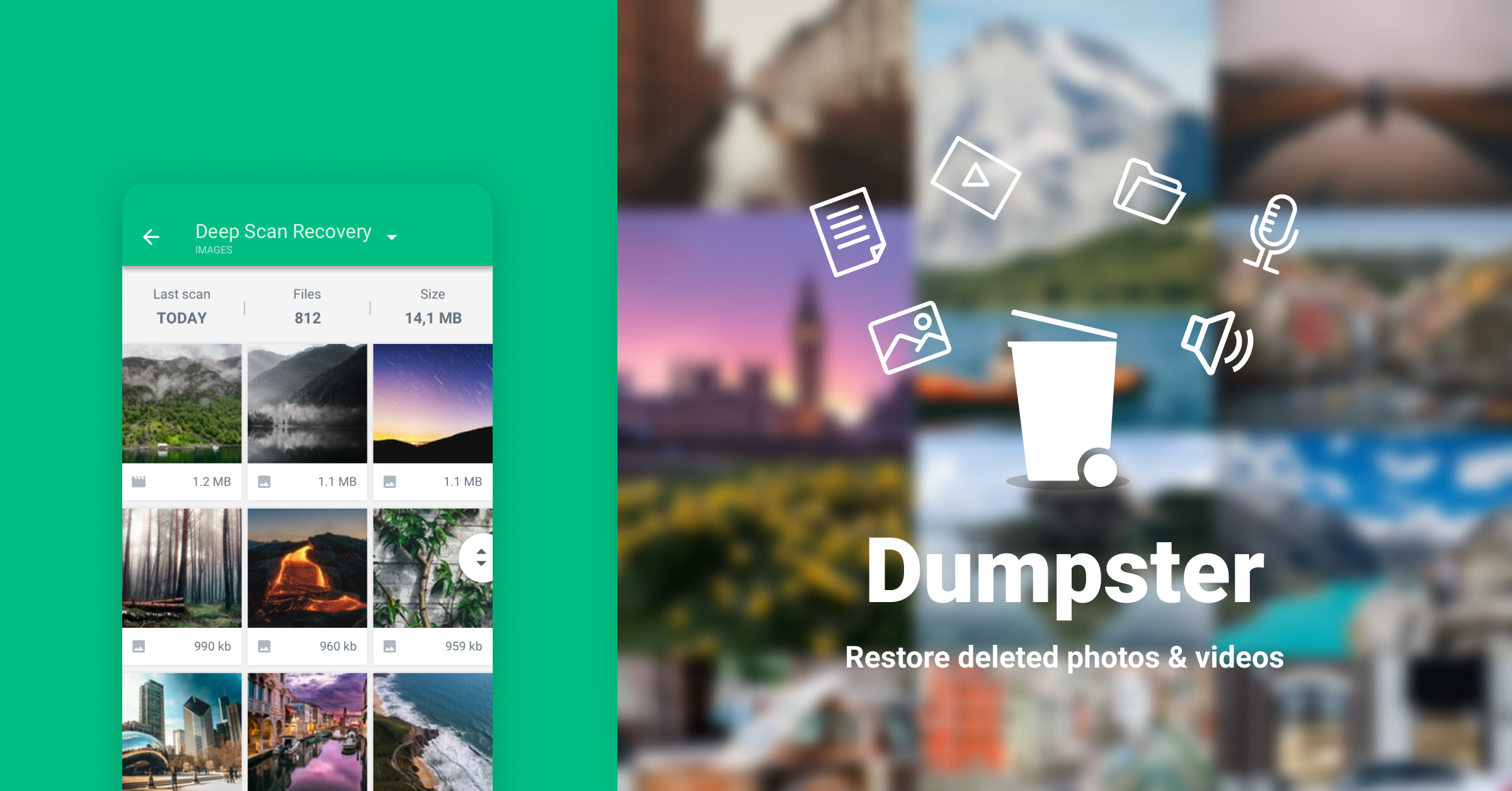 Dumpster has been described as a lifesaver by countless Android smartphone and tablet users. After all, few experiences can compare with the sinking feeling of accidentally deleting treasured photographs from a device – potentially risking the banishment of some great memories in the process.
Dumpster eradicates this concern by providing the immediate opportunity to retrieve these images, whether from hardware directly or an external SD card. 
Now onto its third incarnation, Dumpster – the brainchild of Baloota Applications Ltd, who are also protecting countless Android users with the Cover app – has undergone a further round of improvements. It has truly never been easier to ensure that your photos and files remain safe and secure.
Why Should I Download Dumpster?
Dumpster utilises Deep Scan Recovery technology, designed and by Baloota Applications Limited, so restore any images or files removed from a device – whether by accident or design. 
Think of Dumpster as a Recycle Bin for your Android hardware. An errant thumb swipe will no longer banish your memories into the ether – you'll be able to retrieve them with a simple touch of a button.
There are countless reasons why Dumpster is a must-install for any Android device user. Picture the following scenarios, and ask yourself – "could this happen to me?" If the answer is yes, Dumpster will provide invaluable peace of mind and assurance that no deletion is permanent!
You hold sensitive images on your phone, such as financial data used for a credit application, and you're worried they will fall into the wrong hands. You delete the images – only to find that you need them again in short order
You hand your phone over to your kids to keep them amused while you're having a conversation with a friend. They hand it back – and you find that they have deleted a raft of important photos to make space for a game they wanted to install
You're looking through photos and files as you wish to share them with somebody else through a message, and accidentally push the wrong button. Suddenly, the image is gone – and there is seemingly no way of getting it back
You have a video that you love to watch every and now and again, but it's taking up more space on your appliance than you are comfortable with. With a heavy heart, you decide to delete it – but find yourself pining for the opportunity to enjoy it again within a few days
As you'll see, there are a range of reasons why any user may find themselves in need of the services of Dumpster. Download the app now and you'll immediately enter a new world of confidence. 
How Does Dumpster Work?
As discussed, Dumpster is akin to a Recycle Bin for a smartphone or tablet.  As soon as you download the app, your smartphone or tablet will enjoy a cloud-based service that backs up your files. This will be password-protected for your privacy – and if you pair Dumpster with Cover, another app from the Baloota stable, you'll enjoy an even greater level of protection.
You can use Dumpster to retain files, images and videos in the Recycle Bin, freeing up space on your device but still enjoying instant access. These files can be restored to your appliance with the touch of a button, removing all stress and concern from the idea of losing any images you hold dear.
But what about the images that you lost before installing Dumpster? Do not worry – the use of Deep Scan Recovery ensures that even these files can also be retrieved. This technology locates and sources any files that are invisible on your device, whether simply invisible or still loitering in an app cache. 
When images are deleted, these steps are taken by hardware to save memory, speed and data usage. Dumpster offers the same advantages – without depriving you of access to your files. 
What's New with Dumpster?
The latest Dumpster update – version 3.2 for those of you keeping score – has made a couple of key improvements to the app. The first, and arguably most critical, is the size. We have shrunk Dumpster down to an increasingly small download, making it the perfect place to store memories without sacrificing speed, performance or memory on your device.
What's more, we have made Dumpster increasingly international. They say a picture is worth a thousand words, so there is no reason why Dumpster users should be restricted by language barriers. We have added Swedish, Malay, Thai and Dutch to our list of languages, broadening the ability for users all over the world to enjoy Dumpster.
This is all in addition to the recent additions, the most notable of which is a tabbed view. Easily accessible from the bottom of the screen, you can choose whether you'd like to access the Recycle Bin, which offers easy, password-protected access to any videos, photos and files that may not be hosted on the hard drive of your appliance, or make use of the Deep Scan Recovery software – regaining access to materials that would otherwise have been lost.
If you're still struggling with any bugs, we're sorry to hear that. Unfortunately, it's sometimes the nature of the beast when managing the ever-evolving world of technology and apps. We are constantly monitoring Dumpster for any quirks and foibles, but if you're experiencing an issue please just let us know at support.dumpster@baloota.com and we'll look into rectifying it at once.
How Do I Get Dumpster?
It couldn't be simpler to enjoy the peace of mind provided by Dumpster. Just head to the Google Play store and install. As soon as you've done so, you can enjoy the knowledge that any image you accidentally erase – or even remove intentionally but later come to regret – can be restored to your appliance without fuss.